Our time in Baja came to a close almost two weeks ago and so my last blog on Baja is a piece with some reflections from our time here as well as on my initiation to bikepacking.
Our route out of Mulegé involved hitching a small boat from a local fisherman to Los Hornitos, the peninsula tip on the other side of Concepcion Bay, to cycle down a track running parallel to the sea. The peninsula is uninhabited except for a handful of seasonal fisherman and so it gave us an incredible opportunity for camping on stunning and empty beaches and traversing the line between desert and sea. We even enjoyed some tasty evening camp cooking after a good resupply from Mulegé. This section was undoubtedly a highlight of our trip so far.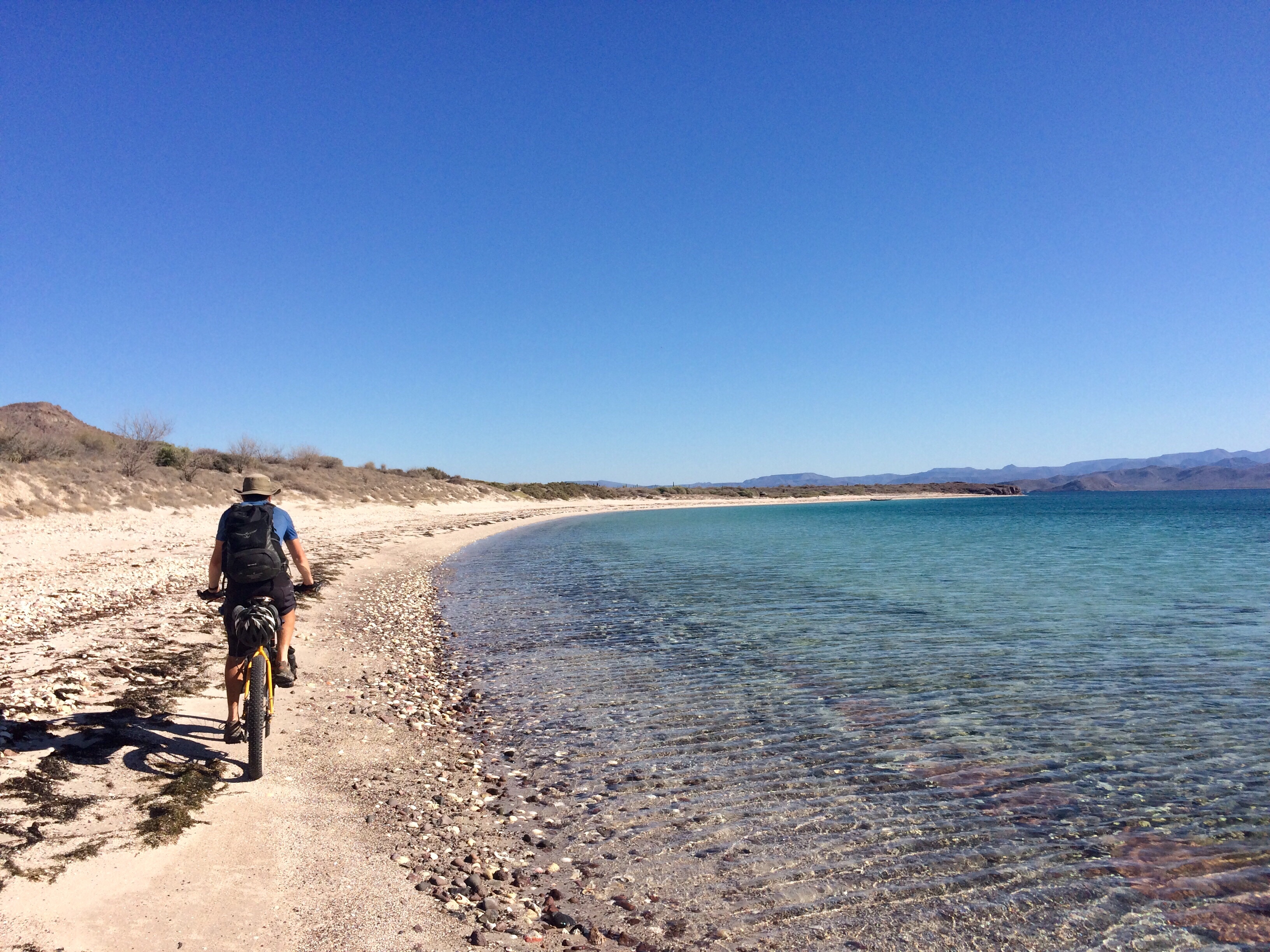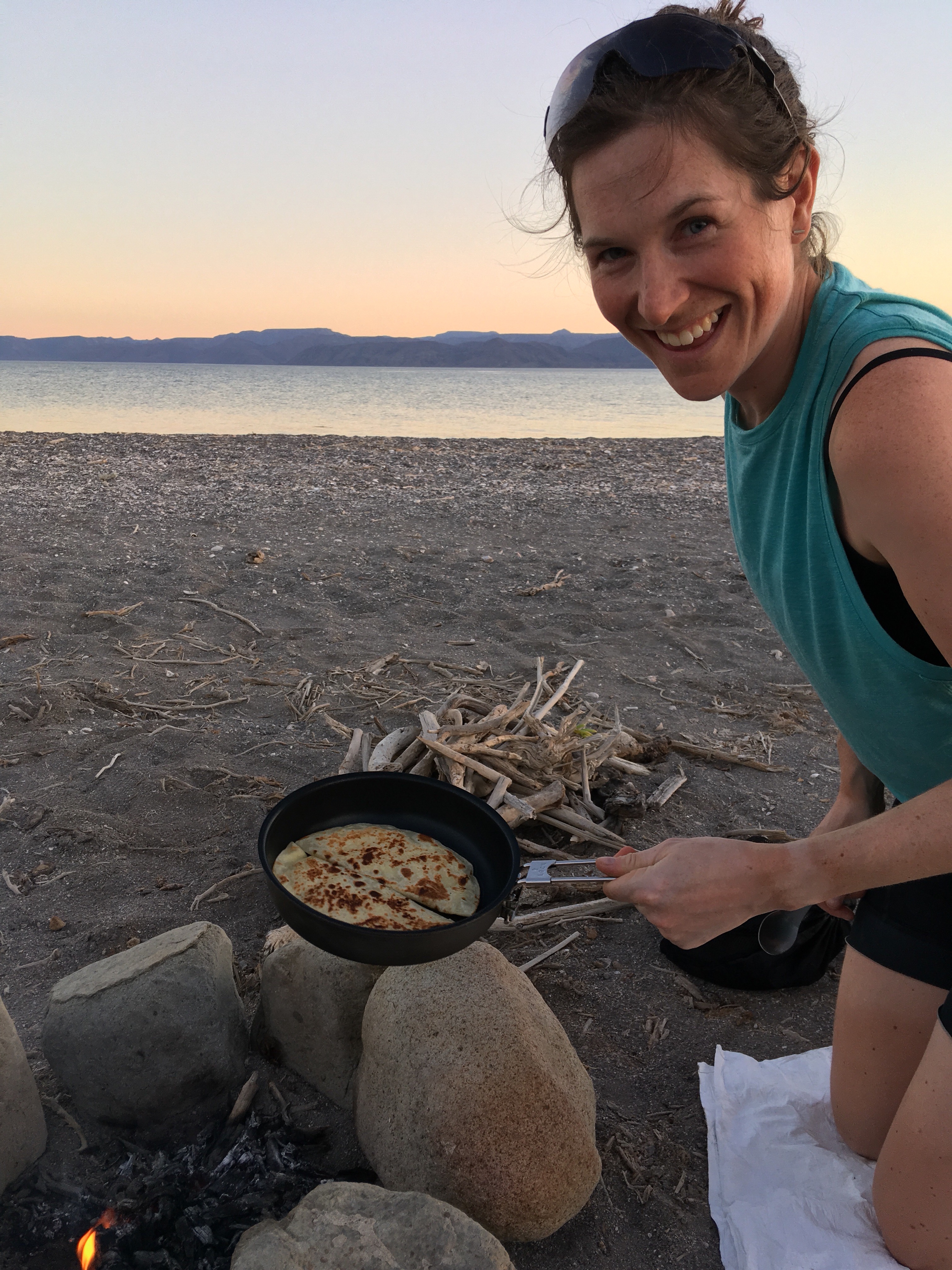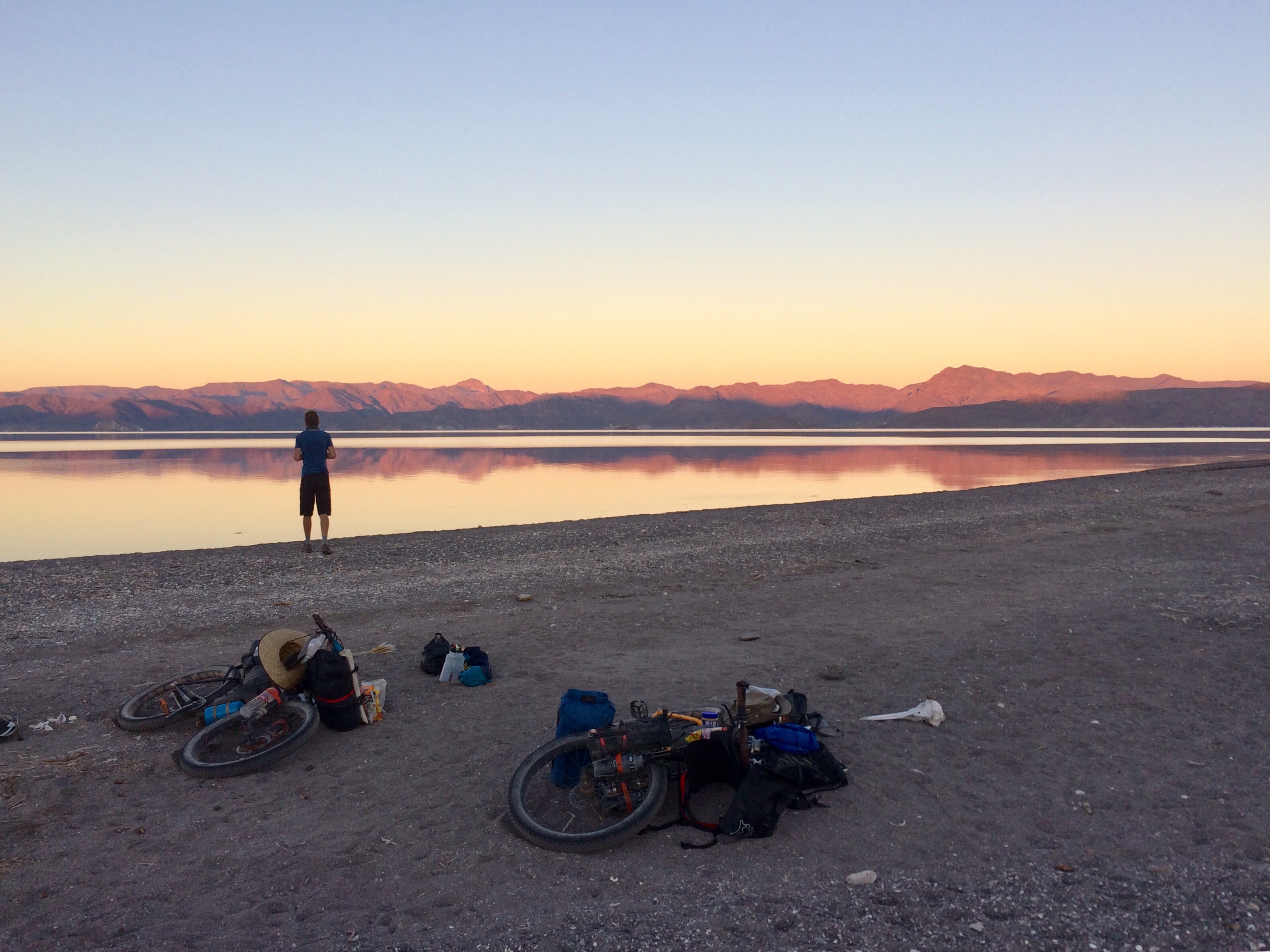 That said, cooking our evening meal at around eight o'clock, still in twenty seven degrees was a reminder that the climate here was getting more challenging. The next day we submerged ourselves in the sea as much as possible during breaks on the ride but still struggled to keep cool.
As our route began to head inland again and a review of alternative routes revealed that there were few tracks by the sea going south, it was time to make a call. It was just after eleven in the morning and the temperature was already powering up towards forty and this had been the case for well over a week now. It had become very difficult to carry enough water between resupply points (often at least a hundred kilometres apart) and the heat just became unmanageable for us temperate Brits.
So, reluctantly, but knowing it was the right thing to do, we brought a close to the biking here in Baja. Instead we have spent a week between the town of Loreto and city of La Paz, relaxing and letting our bodies repair, sorting out kit and bikes and doing a bit of sight-seeing. Despite our disappointment, it's certainly been good to have some time off after the non-stop passage between London life and setting off on the Baja Divide.
So, here are my main take-aways from Baja :
1. Living by the sun.
I have found a real appreciation of the ability to sync my body clock to the sun and therefore the diurnal ecosystem patterns that we have been inhabiting. Just before the sun begins to rise at around six o'clock, lying in our tent we start to gradually come round, the sounds of insects and animals around you changing too; some switching off and others waking up. We usually get up early but allow time to gradually get ready, have breakfast and coffee and pack up camp over two hours – which also allows for drying off any condensation that may have appeared over night on the tent in the early sunlight.
Here in Baja, the nights have generally been quite cool so it's also amazing to experience the temperature swings that the sun provides as it rises and sets. While my sleep is a little broken when we are camping, it has been dark between 8.30pm and 5.30am and so I have been getting some long and deep sleeps.
Of course, the midday heat has also challenged us, and pushed us to take shade in these hours and accept rather than fight the heat!
However, I appreciate the long sleeps, gradual wake-ups and all our senses changing as the sun comes and goes.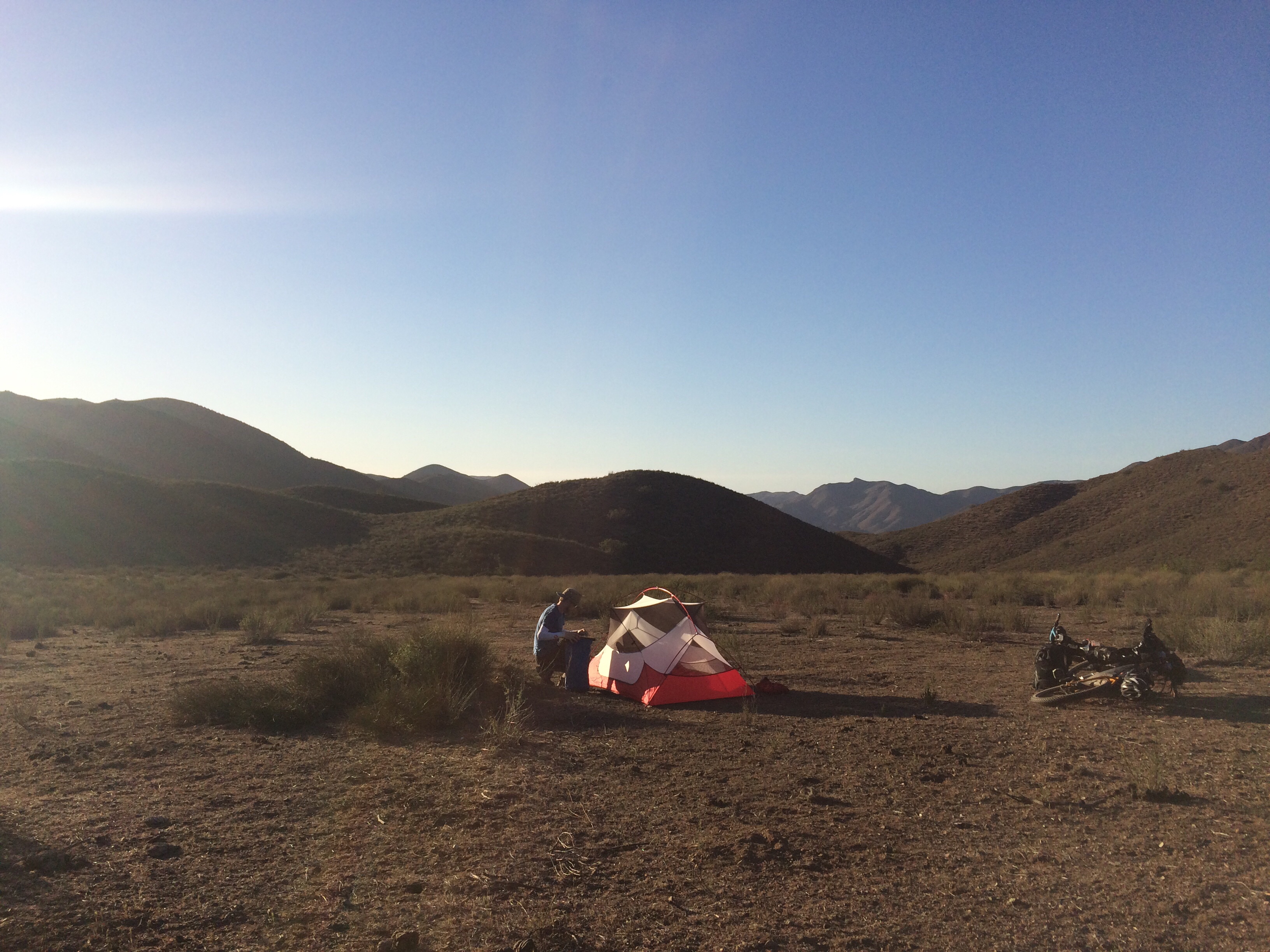 2. Ignorance is bliss?
Here the balance is critical. This certainly wasn't a trip where we could be free-spirits – taking each turn as we wanted. The resupply information and regular planning ahead was critical for our survival in such a dry and unpopulated place and especially as the temperature rose. That said, the resupply notes didn't give information on the quality or detail of the routes, views and places we would encounter and so there were unexpected gems and moments (both good and bad!) throughout. So I have great appreciation to Nicholas and Lael, who put the route together, for getting the perfect balance for us to have the critical information but still feel like we were on our own adventure.
3. There is beauty in the detail.
The bus journey between Loreto and La Paz was a real eye opener in experiencing the area from an air-conditioned vehicle and at a much faster pace. The desert looked arid and almost fierce with little vegetation and life. Even when we did a couple of short sections of cycling on the highway, we moved at a faster pace focusing more on keeping an eye on upcoming vehicles, rather than really looking close at the place around us.
So I now realise how lucky we are to have the time and ability to get off the paved roads onto the little used tracks. Here, so many tiny colourful birds dart in front of you from one cactus to the next, speedy hares and lizards scurry across the tracks, cattle and horses stare at you as you move past them and large birds of prey glide far above, hunting for their next catch. So getting up close to this, perhaps, daunting environment turned my understanding of it into a fascinating and thriving ecosystem.
4. It's time for us to take responsibility for our use of plastic.
We cycled past vast areas where thousands of old plastic bags, probably aimed for the landfill, had been swept into cacti and vegetation. Plastic bottles are also part of this mix. To some extent I don't blame the locals as they don't seem to have a government system for refuse and recycling. But seeing first hand how nondegradable waste just builds up so visibly across the land is a reminder that we should think about the lifecycle of every part of every product we buy and question if there are other options.
5. The way to overcome fear is to face it.
Although I didn't realise I would be, I was fearful for a significant part of this trip in Baja. Learning to mountain bike, lacking the fitness to progress quickly, cycling on challenging terrain, carrying enough water and food and sometimes just the overwhelming feeling when all the difficult stuff comes together; you're just not sure how you will get through the next ten kilometres of deep sand in forty degree heat with flies everywhere and your water depleting fast.
But despite that, I have had the most incredible journey, experiencing a totally new place and most importantly I can genuinely say that I am no longer afraid of these things anymore. I have no doubt that there will be tricky situations to come, but I have confidence we'll get through them poco a poco – little by little. Certainly a lesson worth applying elsewhere.
So, finally, I must write some words about the people who we have encountered along the way, who have been so very generous, kind and smiley. It's been an absolute pleasure to get to know them and their beautiful region.
Here are some particular shout-outs: Maria-Luisa who let us camp in her garden and showed us how to make fresh tortillas, her husband who was so keen to help Campbell fix the tent, Pancho who welcomed us to his bay to pitch up and rehydrate, the lady at Rancho Piedra Blanca who made me tea to settle my upset stomach, the cutest chihuahua, Canela, who snuggled up against our tent all night at the Casa del Ciclista in San Ignacio, all the ranchers who often gave us purified water free of charge and Michael for his wise and wonderful words at Rancho el Coyote.
It has been a rollercoaster!
Campbell is working on the more extended blog reports from Baja, but it takes a little while to pull together all the thoughts and photos, so they will be along in due course.
Next stop: Colombia!