Huanchaco > Cascas > Contumazá > San Juan > Cajamarca > Encañada > Celendin
First of all, apologies to those of you who have been waiting with bated breath for this first proper blog post!  It's been a mixture of a lack of Wi-Fi and running into technical issues that have required a lot of work on the website back-end to be able to deliver you the full bells-and-whistles experience!
Anyway, after just under a week chilling out by the beach in Huanchaco, the day finally arrived to leave and shortly after 7am local time on Friday 3rd June 2016, I headed off on my big adventure.  The plan was to head northeast, up into the Andes, so that my mate, Si, could come and join me for a week or so.  He's living in Trujillo at the moment (just down the road from Huanchaco) with Claudia, so it's been great to hang out with them and have their support whilst I find my feet.  Si was very thoughtful and came over before work to ride out of town with me and set me well on my way.  Had I had my social media hat on, I might have waved off or something!  As it was, I was somewhat preoccupied with other stuff…
Before anyone wanders why we were riding on the wrong side of the road, we were on the as-yet-unfinished second carriageway of the Pan-Am at Trujillo!  It felt like a somewhat low-key affair since, as is so often the case on the coast there, it was an overcast and misty morning.
Once we parted ways on the edge of town, I had about 20km of the somewhat horrible Pan-American Highway to negotiate before I could turn off for quieter roads.  It's dusty and non-descript and you pass mile after mile of huge chicken sheds (feeding the endless 'con Pollo' demand).  I'll be quite happy if I can avoid it completely for the rest of my trip!
Anyway, the sun broke through just as I was pulling off the Pan-Am at Chicama and the road was instantly much quieter and safer.
Song of the day:
It was a good morning – the fearsome Andes slowly came into view and I got some good miles under the belt.  That is, until shortly after midday when I made the mistake of looking at my rear tyre!  I thought it looked a little soft and made a mental note to add a bit of air that evening.  Lo and behold, about three minutes later, on a completely straight and relatively smooth bit of road, there was a loud pop as my rear tyre came off the rim and then another pop as the inner tube blew open!  Jinxed.  I thought it was a little odd, that it had happened without any particular coaxing (no bumps or stresses), but quickly set around replacing the tube with one of my two spares.  With my road-bike hat on, I pumped the tyre up nice and firm again to about 60psi (the tyre spec says between 35-70psi), having concluded that the rim had come off due to low pressure.  I set off again.  About half an hour later, going through the little village of Huabalito, I went over a speed bump and there was an almighty bang that got half the village out of their houses to see what was going on!  Needless to say, the rear tyre had popped off the rim again and the tube had burst.  Just to be clear, when I say burst, I mean a large tear/hole in the tube that was most definitely irreparable.  This left me in the somewhat gut-wrenching scenario of having to fit my last spare tube, only hours after setting off!
Now, a little technical background here so that you can understand the gravity of my dilemma…
This is where I had made life a little more difficult for myself in my choices a few months back!  I'm riding a 29er mountain bike – that is to say that it has 29″ wheels.  These are very popular in the US and Europe (and are essentially the same size wheels as the road bike standard which I'm accustomed to).  These are NOT very popular in South America or the rest of the developing world!  Over here they pretty much all run 26″ wheels!  This is something that I was aware of when I chose the bike but, after weighing it up, decided to take on the risk.  My thinking had been that, despite the relatively rare nature of the specific tubes that I'm using, I would be able repair most punctures and re-use them.  Hence, only carrying two spares.  Besides, the tyres I'm running are meant to be relatively bullet-proof so I wasn't expecting too many.  The short of it was that spare tubes were not going to be easy to come by!
Fortunately for me, two chaps who had heard the noise came over to see what the issue was and help me replace the tube, whilst asking me lots of questions about my fancy bike!  As I was pumping the tyre back up, feeling the tyre by hand, they insisted I stop short of the 50-60psi that I was aiming for with statement of "basta, basta" (enough, enough)!  I explained that I thought it needed more but they held firm, if you'll excuse the pun!  I decided that it couldn't hurt to trust them and try a different approach – one of them had actually arrived on a bicycle so they surely knew something!  Anyway, with the tube replaced for the second time and somewhat hot and bothered, the elder of the two asked if I had eaten anything for lunch already.  I replied that I hadn't and he promptly invited me into his very modest home to have lunch with his family!  My first taste of Peruvian hospitality.  The very friendly Jonathan and his smiling wife then plied me with a bowl of farfalle soup followed by a large plate of home-grown rice and chicken.  What a kind gesture in my hour of need!  He insisted I take a guaba with me too, to eat along the way.
I had planned to stop for the night not much further down the road but felt like I had to push on a bit to put the rear tyre to the test.  I needed to know one way or another whether it was OK.  The next few hours were a very interesting lesson in overcoming, or at least controlling, fear!  If the tube went again, I was stranded and faced having to try and flag someone down to get a lift with my 47kg of bike and gear to the nearest town and then probably from there back to Huanchaco whilst I try to source replacement tubes.  I kept having to tell myself that what would be would be and there was really nothing gained from worrying about it.  It made for a somewhat nervous afternoon though.
Finally, I arrived in Cascas, having negotiated the steep and relentless climb up into town without incident.  I quickly found a hospedaje (hostel) and sat down to digest the day's events.  Then I messaged Si and Claudia for help!
Of course, it transpires that I had simply been over-inflating the rear tube.  It had been fine during my rapid spin down the Pan-Am in the cooler morning but the midday sun had heated the road/tyre up to a point where the pressure was too much.  The tyre had been squeezed off the rim and the rim had then sliced the bulging tube open.  In my mind, my heavy load on the rear (with two panniers and my tent, not to mention the rear wheel always being the load-bearing one) merited a reasonably high pressure.  I'd had no experience with these sorts of (mountain bike/touring) tyres at that point – as a road cyclist, I commonly pump my tyres up to 90 or 100psi, depending on the tyre.  Pretty basic error but I guess you've got to learn somehow!  The magic number is around 40-45psi (29 x 2″ Marathon Mondials, for anybody interested reading).
The next morning was a slightly nervous start, especially once I hit dirt roads for the first time coming out of Cascas, as I waited to see how the tyre would fare on the bumpier track.  However, I soon managed to shove it to the back of my mind and get on with enjoying what was a beautiful day and a very scenic climb.  After a long and tiring first day, I had only given myself about 40km to ride but that did involve a 1500m climb on dirt roads!  It was soon clear that it was going to be a good day, however, as I came across a sign saying 'honey for sale'!
After a fantastic experience with my cycling friends a few years back when we came across an 'ici miel' sign (and promptly stopped to demolish an entire jar between us whilst climbing the stunning Gorges de la Nesque in Provence), it could only bode well!  Sadly, the proprietor only sold it by the kilo and I couldn't bear the thought of adding yet more weight at the start of a big climb!  She did, however, take pity on me and brought me out a couple of (home-grown) passion fruits and a Chirimoya (custard apple) to take on my way!
A few kms further on and I rode past a chap cleaning out some large water drums and, after expressing my tiredness, he insisted I step on over and munch on some more Chirimoya.  If you haven't had it before, it looks pretty horrible but is really sweet and delicious.  He then insisted on me trying a mug-full of his home-brew red wine!  I duly obliged, despite being mildly concerned that it wasn't the best thing to be drinking early on in a strenuous climb on a hot day!
NOTE: these pics with an 'i' in the corner are 360 photos – you can spin them around!  If they don't load, do wait about 20-30s (they're quite big so might take a while to download).  Otherwise, refreshing the page seems to help!
The rest of the climb went well – the scenery was absolutely spectacular.
Towards the top, the road was etched into the side of the mountain, which made for some slightly hair-raising moments as I passed drops of several hundred feet!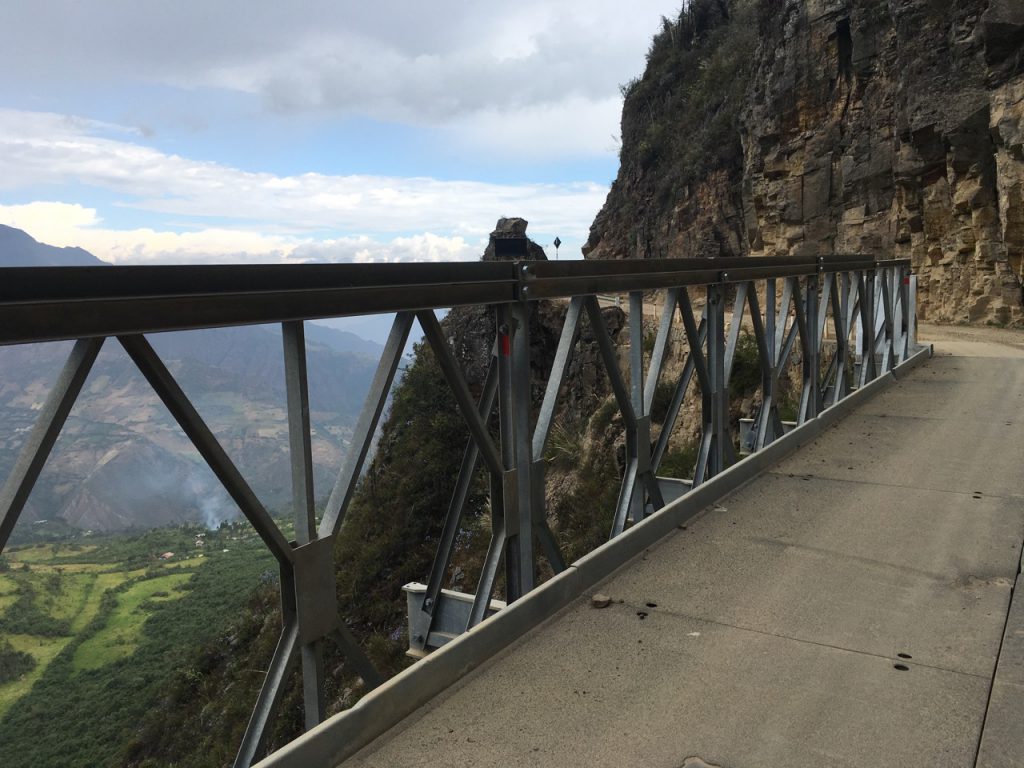 I eventually made it to the top at about 2950m and slowly rolled the bike into Contumazá to find a hospedaje for the night, feeling absolutely knackered but blown away by the stunning scenery.  I was, of course, also somewhat relieved at having made it there with the bike in one piece too!
The next morning, I spun out of a busy Contumazá – it was election day in Peru and the crowds were clearly gathering to lay their votes down.  It has since transpired that it was most definitely one of those days where every vote counts, not least because the eventual winner, Pedro Pablo Kuczynski, won with a majority of 50.1% to his opponent's 49.9%!  The margin of victory was 42,597 votes out of more than 17m ballots cast!  It doesn't get much closer.  Obviously, I managed to back the winner early in the day… 😉
The beginning of this ride was absolutely spectacular – it's approximately a 30km descent to Chilete down a road that, if it were in Europe, would almost certainly be regarded amongst the very best.  It's a beautifully smooth road snaking back and forth up/down the valley, with incredible views to boot.  I did wish somewhat that I was on my lightweight road bike rather than my heavily-laden tourer but had to take the descent at a sensible pace!
The elation of the descent was tempered, almost inevitably, by a somewhat tedious slow ascent up the hot, dry valley to get up to San Juan, the springboard for the final ascent to get over to Cajamarca, and then by a thorough drenching in the closing kms!  You've got to take the rough with the smooth!  The somewhat spartan, albeit dry, hospedaje in San Juan was a welcome refuge.  Not all the inhabitants were happy to see me though – this infuriating little runt didn't stop barking at me all night!