Mendoza > La Consulta > Manqui Malal > Barrancas > Buta Ranquil > Chos Malal > El Cholar > Paso Pichachén > Ralco > Lonquimay > Pucón
With Christmas over, it was time to make some rapid progress South. After being recommended the Chilean side by several Argentinians, it was clear that it was worth crossing over sooner rather than later. The pass over to Santiago, however, was not an attractive proposition given the large amount of HGVs that use it (coming down part of that road to Mendoza, Scott and I had been run off the road on one occasion and carved up several more times)! With that in mind, I set off South towards Chos Malal, from where I could cross over via the dirt-road and rarely-used Paso Pichachén.
After a late start and saying all our goodbyes, I set off riding on my own for the first time in a while. Riding out of Santiago, I had the perfect high-vis accessories for Sally, in the form of Neil and Vicky's Christmas present to me…
Taking the old Ruta 40 out of Mendoza, it was a relaxed affair, riding past (industrial-sized) vineyard after vineyard, before the road merged with the new Ruta 40. Coming to this road was something of a shock – a relatively swish new highway with a lot more traffic than we had seen north of Mendoza. Fortunately, a sizeable hard shoulder made things a little less stressful and gave me a bit of space from the speeding trucks. On my own and with my head down, I had rattled out 100km before I started to think about where I would pass the night. Pulling over just before a roundabout, a chap passing on his bike came over to chat and revealed that he was, in fact, a Warmshowers (Couchsurfing for cyclists) host and would be happy to offer me a bed for the night – I'm not sure that it gets much luckier than that! Together we rode the 4km or so to his lovely home, he introduced me to his wife and little 18-month old kid (who was riding non-stop round the house on a tiny bike), and he showed me my bedroom, the bathroom etc before plying me with biscuits and drinks. Such unconditional generosity and trust is incredibly humbling. As with many other Warmshowers hosts, Mariano is a passionate cyclist with dreams of doing his own big tour(s) at some point and was delighted to just hear all about my experiences, my kit and my future plans. After a late night (Argentinians don't seem to eat until about midnight) and bidding farewell to my spontaneous host, I hit the road again. I had a choice ahead – to continue on the Ruta 40, which turns to gravel (in unverified condition) shortly thereafter or take the asphalt bypass via San Rafael, which would be 70km longer but provide easier riding. Obviously, I took the former! The stress of the traffic on the previous day had me longing for a bit of peace and tranquility and, to be honest, riding through the Peruvian Sierra and the Bolivian Lagunas gives you the confidence to know that you can deal with pretty much any (dry) conditions that are thrown at you! As ever, the road less travelled turned out to be a bit of a gem. Despite intermittent patches of gravel, sand or washboard, the almost complete absence of vehicles (about a handful each day) gave me the tranquility that I was craving and reminded me of what I had perhaps taken for granted further North – dirt roads really do offer some of the very best cycle touring around! It's a fairly dry and flat landscape in this region but numerous streams running down from the mountains (just to the West) bring colour and life, and offer chances for a quick dip to clean up and cool off too!
Having taken advantage of a glorious tailwind and made it almost to the halfway point, I set up camp overlooking a beautiful gully with the snow-capped mountains in the distance. This is what touring is all about…
The next day was more of the same – some at-times challenging riding in fairly hot conditions – but worth it for the desolate beauty. Having slightly misjudged my water stops – the last opportunity to refill had turned out to be a large, fast-moving, muddy and relatively inaccessible river – I had to push on and ration my drinking a little. In the heat of the afternoon sun, I was kicking myself for not having (at least partially) filled up my 4L water bladder in addition to my bottles. Down to my last half a bottle and with a fair way to go, I was overjoyed to spot a Difunta Correa shrine with a single large container of water next to it! I took what I needed, making sure to leave a fair bit for the next thirsty cyclist to pass by.  Turns out that they are handy after all!
Fortunately, a further 15km or so down the road, I ran into a small stream from which I could chug as much as I wished, and my slightly dehydrated body was re-energised! It's always a difficult judgement on a bike as to how much water you carry with you – too much and you are needlessly carrying substantial extra weight, too little and you can end up in a pretty bad way quite quickly. With less weight, however, you can arguably make it quicker between water sources, so it's a fine balancing act! Determined to crack on at a reasonable pace, I made it back onto the asphalt that evening and set about finding a spot to camp. Back on the main road, however, and surrounded by open shrubland, much of which was fenced-off private land, there was not a wealth of opportunities presenting themselves. As the sun set over the mountains, my sense of urgency increased…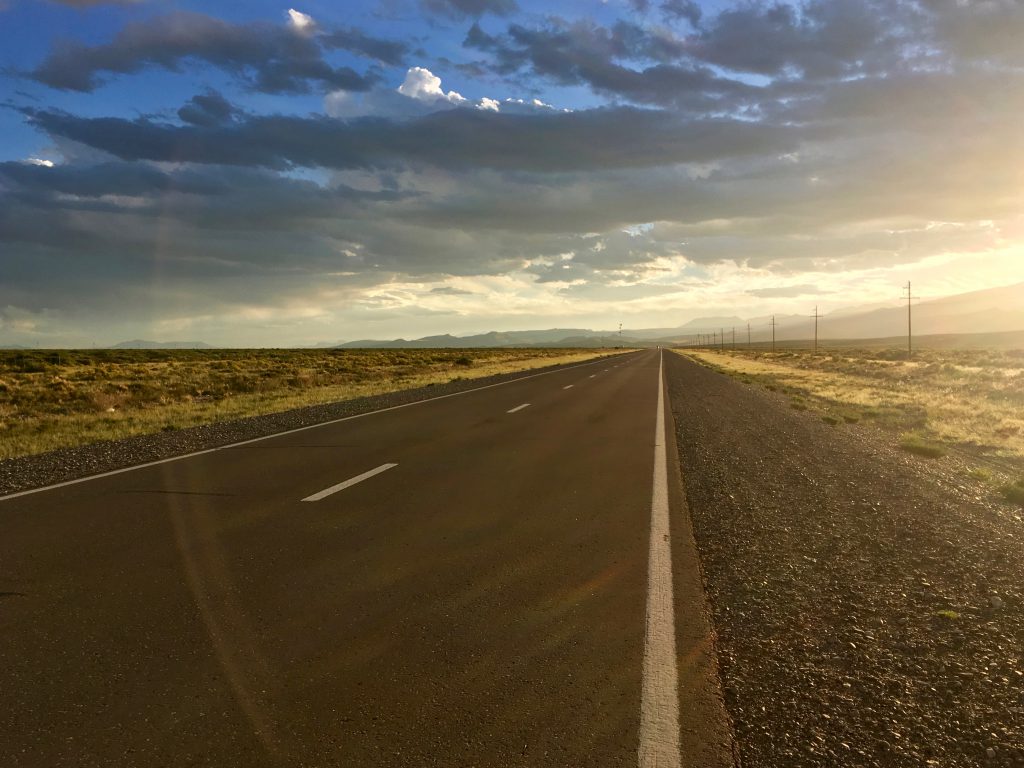 Spotting an area ostensibly owned by the local oil company (YPF) with an unlocked gate and reasonable-sized bushes to hide behind, I rushed off the road during a gap in the traffic. Keen to find a stealthy spot before I was spotted and somewhat impatient after my tiring day, I dashed across the field to a small clearing behind the nearest large bush. In my haste, however, I had not fully registered the extent of the thorns protruding from each and every plant and, within seconds, I had loud hissing noises coming from both front and rear tyres! Cursing my impetuosity but relieved at having found a campsite, I pitched my tent and then got a coffee and dinner on the go. It soon became apparent, however, that I had also managed to place my tent on an ant super-highway, the little blighters rapidly swarming anything and everything in their way. Fortunately my tent is free-standing so, pegs removed, I was able to just pick it up and move it to a less 'anty' spot. Whilst these sorts of things can be incredibly frustrating and that frustration can sometimes be difficult to contain, you really just have to take a deep breath and get on with sorting it out – as I've mentioned before, when I've got lazy or things have got difficult on this trip, my motto has just been "nobody's going to do it for you". As my pasta dinner cooked, I set about getting the wheels off the bike and the tubes extracted to give me some 'fun' pre-sleep patching! The next morning I was somewhat nervous to hear footsteps as my alarm went off shortly before dawn. Popping my head out of the tent, I'm not sure if I or the handful of horses all around me were more startled…
Eager to get back on the road before I was clocked, I set about reinstalling the repaired tubes and repeating the well-practised process of packing up camp. Despite carrying the bike back to the road, I was somewhat dismayed to find another rear puncture – most likely a secondary hole in one of my repaired tubes that I had missed, probably due to my tiredness the night before! Another chance to embrace the motto…
After a quick 35km, I stopped off in Malargüe for breakfast, supplies and internet, and then headed off for another 35km to the campsite at Manqui Malal.  The next morning continued on asphalt for a while…
Shortly after, I was spellbound by this circling overhead…
By this point, I'd seen several possible sightings of distant Condors but was never 100% sure.  This one, however, was unmistakeable!
Not long after, the asphalt ran out and I was back onto the dirt.  This area is perhaps one of the less interesting that Argentina has to offer!  A ferocious Westerly wind was channeled through neighbouring valleys, sometimes propelling me at breakneck speed, sometimes buffeting me as a cross/cross-headwind.  The terrain was hard work and there were not many opportunities for shelter.  Even my lunch in the shade of some trees by a beautiful little stream had to be cut short as I was mobbed by dozens of the large biting flies that you find in these parts.  They are incredibly persistent – circling around you as you cycle and keeping up at speeds up to about 30kmh!  I've no idea how they do it but they drive you crazy.  With limited opportunities for sheltered camping and relatively few clear water sources, I decided to keep pushing on and see how far I could get.  After a predominantly downhill run of 120km, the Rio Grande crossing marked a Westward turn into the wind and a 600m climb.  With tiring legs, a fierce headwind and washboard road, this proved to be a real test…
Stubbornly persisting, I reached the top of the climb.  As reward for my obduracy, this also marked a return to asphalt and a veering slightly southwards again, away from the wind.