I realise it is now very apparent that there has been an extended period of silence from the Random Rouleurs camp. The truth is that there has been a bout of writers' block, which all attempts to unblock have been unsuccessful.
However, I am not one to give up easily and so I am back at the keyboard to have another go at getting some thoughts into sentences.
On our walking tour of Medellín, our host, Julio, gave us an insightful and inspiring talk about his city and country, with a focus on the political rollercoaster of the last seventy years or so. From his perspective, he shared the good bits as well as the gritty bits, because what really mattered to him was that this group of twenty tourists from all over the world would have a clearer picture of the truth. The truth about the progress Colombia has made and the truth about its majority of friendly and hopeful citizens.
Unsurprisingly, it turns out that Julio, along with the vast majority of Colombians, are rather fed up with the stigma their country holds with the connection to cocaine and an ongoing civil war. And so with Medellín being an example of such positive development and change, Julio has made it his purpose to welcome travellers to his home and also ensure that when we return home and share our stories of our travels in Colombia, they wouldn't be of fear, violence, drugs and war, but instead they would be about the journey this country has been through and of it's dynamic beauty and richness that it boasts today.
So this is the tale, and truth, that I will share with you now. After seven weeks in Colombia, I will share my perspective of a journey through a beautiful and varied place that is populated with animated and passionate people.
Now, don't get me wrong, when Campbell first suggested Colombia, I had my reservations. The BBC had just released a documentary on the state of Colombia with regard to its issues around illegal drug trafficking and how it has impacted so many people. The effects were frightening in places and it showed that so many communities have been displaced and left in extreme poverty.
However, I did my research, talked to others who had visited and it was quite apparent that there was much more to this country.
So we decided to fly into Medellín and cycle a loop, heading all the way east, to about seventy kilometres from the Venezuelan border, then turn south west towards Bogota and onto the coffee region further west.
And what a journey. Colombia is lush and green, the land populated and defined. The climate is tropical and hot in the lowlands to chilly and snow-capped at high-altitude.
We cycled through humid rainforest, steep mountainous coffee plantations, lunar-like, high-altitude páramo covered in the unusual frailejones and hiked up to a snowy glacier and national park lakes. We have frequented bustling town squares, panaderías for their bread and coffee, encountered a town's annual fiesta and have been submerged in their infectious World Cup football fever – the Colombians sure know how to celebrate!
And a real treat has been sharing the roads with so many other cyclists; club road cyclists in the cities, mountain bikers in the mountain towns, farmers transporting their produce on cargo bikes and people just getting around their villages and towns. This commonality has helped to connect us, despite our plus bikes and bikepacking set-up clearly being unusual here.
We have noticed that Colombians share an incredible sense of community and citizenship and what has really made it special were so many interactions with such friendly people; it was rare to pass someone without a warm smile.
So here are just a few of the encounters that really stood out…
The eager children who came to talk to us and greet us in San Roque square after a tough and long uphill slog to their small hill-top town;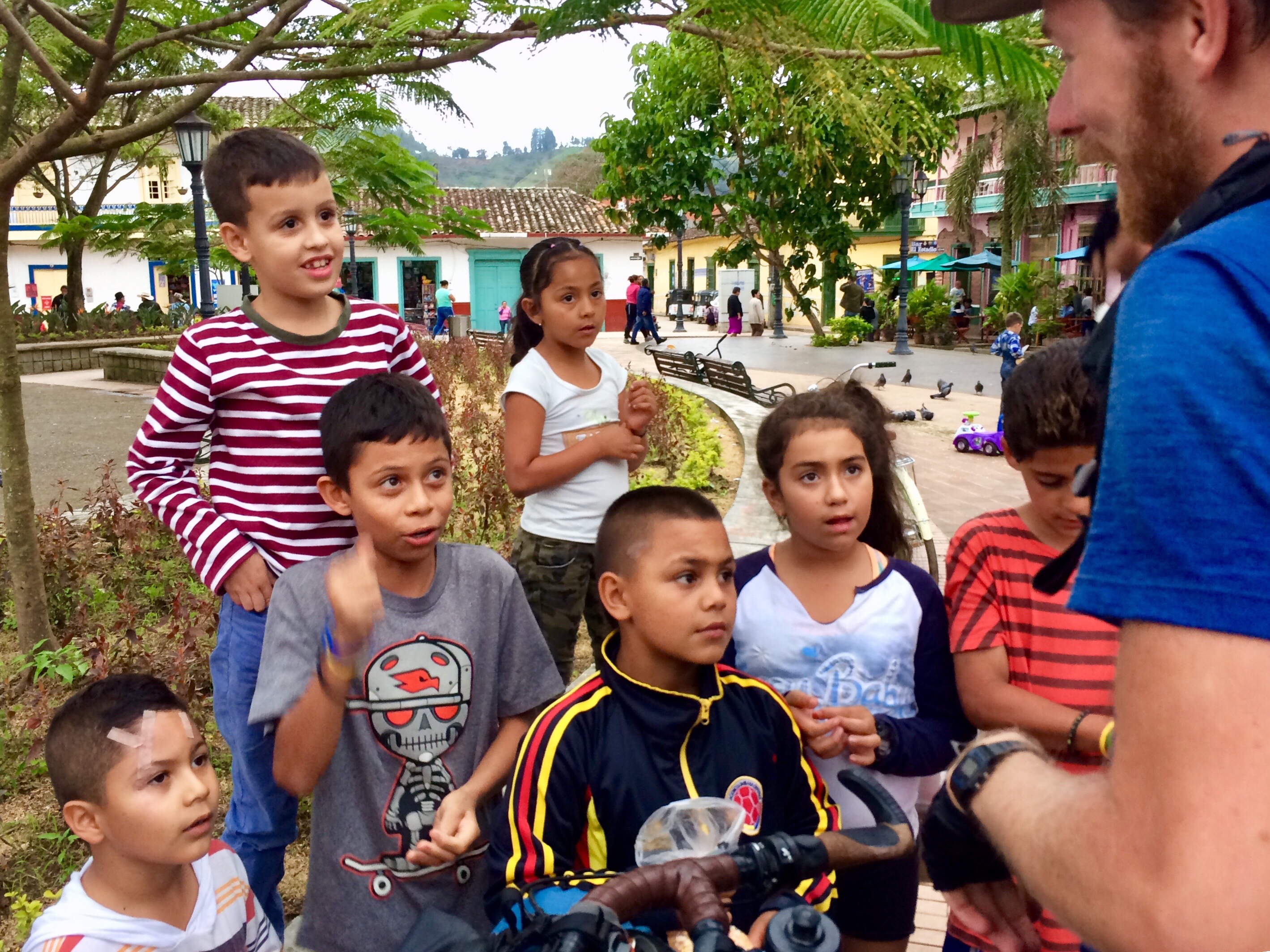 the teenager who accompanied us into his town and helped us to find accommodation (as well as the best bakery in San Vicente de Chuchuri!);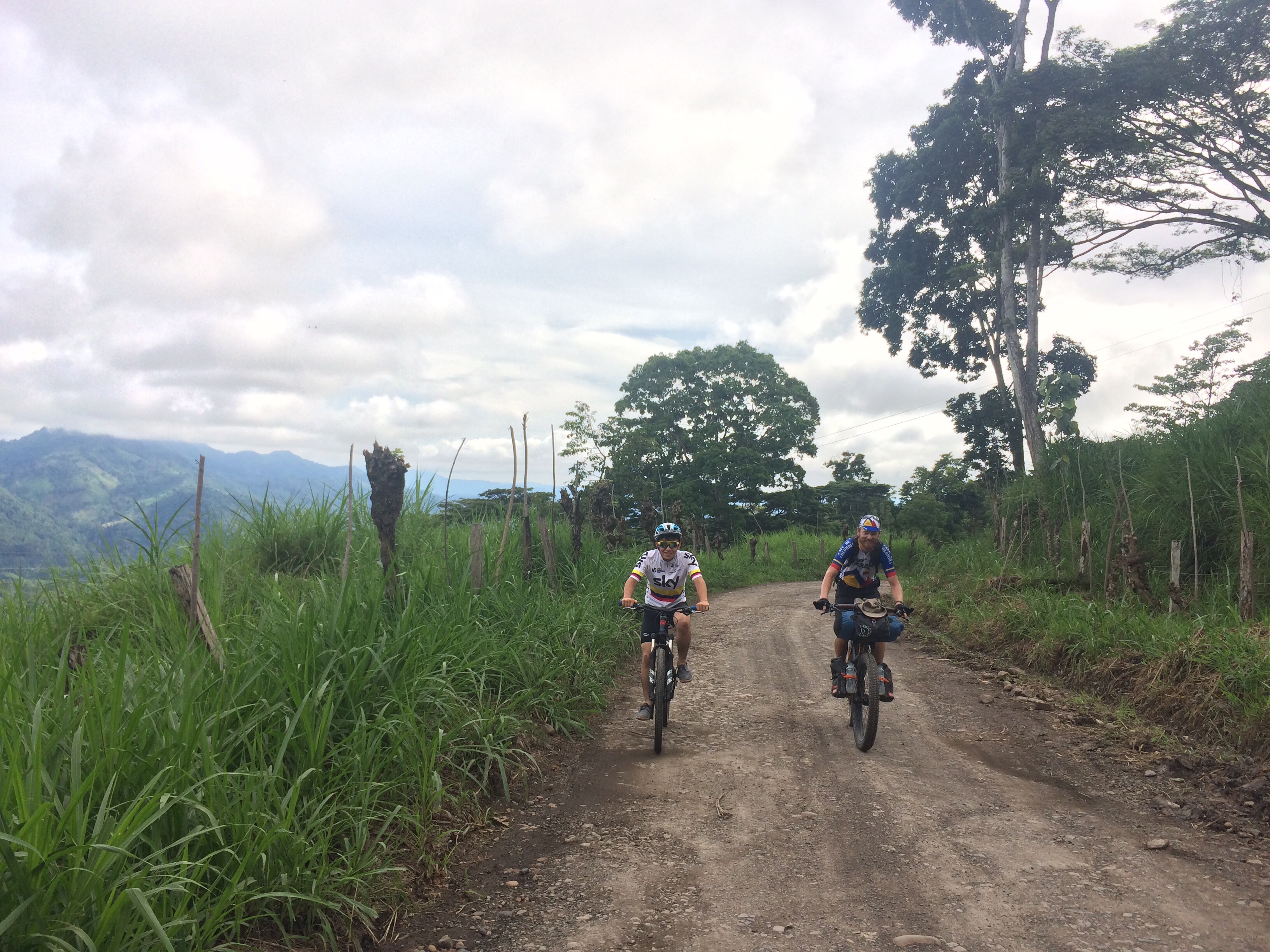 the family run bike shop in San Vicente de Chuchuri, who gave us coffee and made a special trip back home to give us their own bike light mount as ours was broken and they didn't stock the one we needed;
the owner of the hostel we stayed at in the colonial town of Zapatoca who welcomed us and made us feel so at home and even walked us over to the best restaurant in town;
the men who bought us a beer as we watched in amazement over their small town's annual fiesta;
the woman and her two daughters who wished us well on our long ascent up to El Cocuy National Park;
the sweetest shop owner in Guican who made me a lemsip when I had a cold;
Daniel, the eleven year old boy who helped us find shelter in a disused school in a remote village east of Gambita and even helped to sweep it out to put our tent in for the night;
His cousins, siblings and friends who shared a game of football later that evening;
the family we met at the hot pools east of Manizales who bought us coffee and who were so keen to chat and practice their English;
the man who humbly shook our hands when England beat Colombia in the World Cup;
the incredibly passionate coffee plantation owner at Salento who shared his excitement for the land and its vegetation;
and all the locals who came over to say 'buenos dias' when we paused in their town square and ask about our journey and bikes.
What a collection of kind and humble memories and I can't think of a bad encounter along the way.
Of course, nowhere is perfect. The main thing that really struck me was the wealth gap. We witnessed some real poverty in the far east of our route. Here people were on horseback for transport, with woollen ponchos for warmth and fragile shacks for shelter. And it was cold and barren up there in those high-altitude towns. Their eyes revealed this tough life; greetings were less buoyant and travelling through we really stuck out. Here, I certainly felt more disconnected.
Yet a few days later we roll into Bogotá, a cosmopolitan city, very much in the twenty first century. Shopping malls, traffic, restaurants with international cuisine, architecture, technology and fashion. The wealth gap is vast and so very apparent.
In terms of my personal experience, Colombia has been a real change from Baja. Cycling in the Andes inevitably results in either going up or down, with very little on the flat side. We have completed numerous mountain climbs (the longest was just under a hundred kilometres long and ascended from 250m to 4150m above sea level) and blasted down the rewarding long descents. About two thirds of our route has been on dirt roads and often these have been precariously etched into the mountain side, with signs of some serious landslide movement after the rainy season.
And the truth is that it didn't feel too physically challenging. Ok, the high-altitude sections were slow as the reduction in oxygen over 3000m is quite noticeable, but with the Baja Divide as our training ride we had developed a good level of fitness. The terrain wasn't particularly technical, except for a few steep sections (and that three hour, eight kilometre trail detour which was hardly hikeable, let alone ridable). Additionally, we only camped twice as there are an abundance of small towns, all with some sort of basic hotel and the land in between is so steep and with so many fences or boundaries that camping options were minimal. So there was just a lot more get-your-head-down time, a lot more relaxing time and a lot more thinking time.
For those who know me well, I can see the warning sirens going off already. Thinking time. It's true, I am probably better when I am busy; body and mind. So I think my time in Colombia was a new kind of challenge for me, but one that I was willing to embrace.   And if we can define embracing thinking-time as becoming mildly obsessed with the Desert Island Discs podcasts, then I'm winning. In Colombia, the only tears being shed were at 3900m in the final stages of a long climb as I heard the computer scientist, Dr Sue Black's, fifth track that she took to her desert island which reminds her of the joy and relief when she had escaped an abusive marriage with her three children and managed to find a place to thrive, not just survive.  Or Tom Hanks' (what an absolute legend) fourth track when he met his future wife and realised he wasn't going to be lonely anymore. My goodness, it's emotional stuff. I love it.
This fascination of people is nothing new to me. I love to watch, to try to understand. My short 'podcast escapes' from outside of the context that we are in is one part. The other is the people we encounter as we have continued on our journey.
While I may not have a wide Spanish vocabulary to verbally engage here, there is lots to learn from watching the people and places we pass and it has been a pleasure to do so in this fascinating and emerging country, hopefully with a bright and prosperous future.
Before we came here I read a cyclist's blog about the relief she felt when crossing the border from Colombia to Ecuador. My experience couldn't have been more different. I felt no concern for my safety and no rush to move on. Mind you, I was looking forward to a few less rain clouds, which the Ecuadorean dry season promised ahead!